Swing Dance: Weekly Update #3 on Process and Technology Risks in Competitive States
Latest Developments – As of October 27, 2020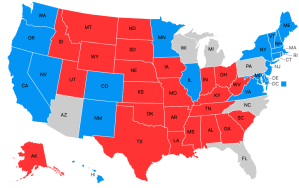 Here is our digest of this past week's news and updates we're monitoring for process and technology risks in competitive states; what we're humorously calling the "Swing Dance." This is week #3 of our weekly updates (T-7 Days to the last day of the election) for what will be a truly historic election. Our update for last week (#2) is available here.
Our weekly updates address a detailed table of items we're monitoring that can be downloaded here (and we humbly assert is worth a look). For a brief overview, we introduced this table two weeks ago here.
AZ: With only days before Election Day, Arizona voters are urged to drop their ballots off at an official Dropbox, county recorder's office, or a polling place, instead of using the U.S. Postal Service. Ballots must be received by 7 p.m. on Tuesday, Nov. 3 to be counted. In Arizona, election workers have already begun to tabulate early ballots. Early returns are being counted in the two weeks leading up to Election Day, and results of early voting will be released at 8:00 p.m. on Election Night.
FL: In a late-breaking, still-developing story, a Florida man has been charged with altering the mailing address in Florida Governor Ron DeSantis' voter registration record. Secretary of State Laurel Lee said the suspect used publicly accessible voter data, and the suspect is accused of using the Leon County Supervisor of Elections website to make the change.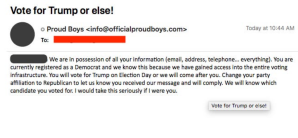 In other Florida news, approximately a week ago, hundreds of Florida voters reported receiving threatening eMail that claimed to have personal information about them, and that directed them to vote in a certain way. The eMail, which claimed to be from the Proud Boys, a right-wing white nationalist group, were later found to have been part of an Iranian disinformation campaign, according to Director of National Intelligence Director John Ratcliffe and FBI Director Christopher Wray. Motherboard covered this story with some interesting insights and a remark from our COO that sums up the situation.
GA: In a decision that has raised concerns among election security experts, Georgia's secretary of state recently reported that poll worker login screens will be entirely removed from electronic poll books during the Presidential Election. (In the June 9 Primary Election, long lines for in-person voting in Georgia were partially attributed to problems associated with distributing passwords for electronic poll books to Georgia's poll workers; because poll workers could not access voter records at the start of the day, they were unable to keep check-in lines moving efficiently.)
IA: Elections officials in Iowa are worried about the state's rising number of coronavirus cases, saying that any illnesses or absences among key workers and volunteers could hinder their services through Election Day. A week before the election, Iowa is reporting a new high 7-day average of about 1,300 daily infections, record numbers of hospitalizations and a surge in deaths.
MI: Due to a massive influx of absentee ballots and state policies that prevent election officials from processing mail ballots before November 2, Michigan's state elections director recently said to expect vote counts by the Friday after Election Day.
In other Michigan news, two lawsuits were filed last week seeking to nullify Michigan Secretary of State Jocelyn Benson's recent directive to ban the open carry of guns at polling places and other sites on Election Day. Court of Claims Judge Christopher Murray has issued a Preliminary Injunction that stops the ban on open carry guns at the polls.
MN: A federal appeals court is weighing a challenge to Minnesota's one-week extension for counting mailed-in absentee ballots while elected officials and activists warn of confusion that could come from any changes so close to Election Day. A three-judge panel of the Eighth Circuit U.S. Court of Appeals heard arguments yesterday in a challenge to a recent rule change that permits state election officials to count ballots received until November 10 as long as they are postmarked by November 3.
In other Minnesota news, a Tennessee-based private security firm that sparked controversy earlier this month with its plans to recruit and staff armed guards at Minnesota polling places has agreed to stay out of the state on Election Day.
NC: Last week, North Carolina's Republican legislative leaders requested that the U.S. Supreme Court stop a recent court decision that would extend the state's deadline for mail-in ballots by six days, to November 12.
In other North Carolina news, the State Board of Elections reports that counties are taking steps to notify thousands of voters that their by-mail ballots require various types of corrections, including, for example, the absence of a witness signature or an assistance signature.
NH: To streamline the absentee ballot return process and minimize the risk of exposure to COVID-19, New Hampshire voters will have the opportunity to use municipal absentee ballot drop boxes, which are new to the state. Approved drop boxes for absentee ballots must be staffed by municipal employees in order to verify the identity of the person dropping off the ballot, whether it's the voter themselves or a delivery agent dropping off another resident's completed ballot. Some smaller municipalities are citing staffing as reasons they are not taking advantage of the temporary drop box provisions (which are up to each municipality's own discretion).
NV: The Trump campaign and Nevada Republicans asked a state judge to stop the count of Las Vegas-area mail-in ballots, alleging that "meaningful observation" of signature-checking is impossible in the state's biggest and most Democratic-leaning county.
OH: Secretary of State Frank LaRose reported that absentee ballots in several counties that experienced printing and mailing delays due to an overwhelmed vendor are now in the mail. Northeast Ohio-based vendor Midwest Direct was contracted by 16 counties to print and mail the absentee ballots. Nine of the 16 impacted counties discontinued working with the printing vendor and decided to begin processing the ballot requests in-house and mailing them out from their own board of elections.
PA: The Pennsylvania Republican party wants the U.S. Supreme Court to quickly take up its case to block counties in Pennsylvania from counting mail-in ballots received up to three days after the upcoming Election Day on November 3. Last week, the Republican Party filed the case after the justices were divided 4-4 on putting a hold on the extension. This left in place a Pennsylvania Supreme Court ruling that required county election officials to receive and count mail-in ballots that arrive up until November 6, as long as there's no proof it was mailed after the polls closed. With new Supreme Court Justice Amy Coney Barrett recently sworn in, this SCOTUS case in perhaps the contentious swing state will be closely watched.
In other Pennsylvania news, last week Pennsylvania's Supreme Court ruled unanimously that counties are prohibited from rejecting ballots solely because the voter's signature may not resemble the signature on their registration form. Two Republican justices joined five Democratic justices in the decision.
TX: Texas is experiencing massive early voting numbers, which have persisted throughout the ongoing early voting period. The record-breaking numbers are leading to predictions of overall turnout unseen in years.
In other Texas news, the state is continuing to fight a Travis County (Austin) district court's ruling that overrode Governor Greg Abbott's order limiting counties to one absentee ballot drop-off location; the appeal has halted openings of additional drop boxes.
WI: The U.S. Supreme Court refused on Monday to revive a previous trial court ruling that would have extended Wisconsin's deadline for receiving absentee ballots to six days after the election. The ruling means that mail ballots in Wisconsin must be received at local elections offices by 8 PM on November 3. The vote was 5 to 3, with the court's more conservative justices in the majority.