Plain Talk Series on Understanding Voting System Updates Part 3: The Fees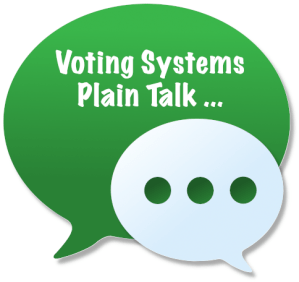 This is the 3rd of a 6-part series of slightly longer vignettes on the challenge of updating voting systems. It's a slice-and-dice of a recent briefing on the topic.
It's intended to acquaint relatively newcomers to understanding how voting system are purchased and maintained, and that includes anyone and everyone from concerned citizens, to journalists, to policy makers.
Voting System Software Licenses and Fees
As noted in our previous installment, when an election jurisdiction purchases a new voting system, the hardware it acquires typically includes licenses for all installed software for the first year of ownership.
After Year-1, however, service models in the voting systems market typically require jurisdictions to pay annual fees to have continued access to various benefits. Those fees are typically known as "license & support fees."
License and support fees:
Provide customers with the continued right to use the installed voting system software (on back-office EMS computers, and also on individual voting devices);
Help to offset the costs that vendors incur to provide services such as:

Online and telephonic technical support;
Ongoing documentation (such as product bulletins and/or training updates); and
Development of future software updates, which are made available to jurisdictions that are current on payment of their annual fees.
An Example of Fees
A simplified example of "license and support" annual maintenance fees might look like the table below. Again, although the first year software license fees were included with the initial equipment purchase, years 2-5 (four additional years) require the election jurisdiction to keep paying annual fees to keep using the voting system, and to have the right to any future software updates.

Wait! There's More
It should be emphasized that license and support fees are in addition to the Year-1 equipment purchase costs (sometimes characterized as "capital investment" (CapEx) described in our previous blog post.
Furthermore, it should also be noted that license and support fees can add up, quickly (and are often characterized as annual operating expenses (OpEx)).
In this example, note that over the remaining four years of this hypothetical contract term, the total cost of annual license and support fees is even more than the amount the election jurisdiction spent to initially procure all of its voting equipment (note, $125,000 initial vs. $147,000 for four additional years).
Recurring Vendor Revenue
With all that in mind, it's easy to see how these license and support fees, which lead to recurring annual revenue for voting system manufacturers, can become significant.
They are the on-going lifeblood for vendors, and given their cost, they should provide on-going benefits for election jurisdictions. Its worth noting, these same fees should support future product development, including software updates.
So, now that you understand the acquisition of a voting system, what's the story with updates?
Why might software updates be necessary?
And who gets to decide when and how they are released?
To read more, here are all of the articles in this Voting Systems Update Series published to date.