Register to Vote For U.S. Midterms 2018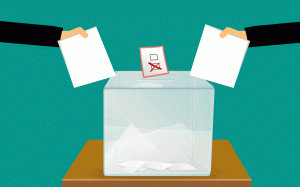 The U.S. midterm elections are Tuesday, November 6, 2018. To cast your ballot, you must be registered to vote. The TrustTheVote Project builds and maintains Rock The Vote's online voter registration system for all 50 United States. Your first step to participation is making sure that you're properly registered.
When do I have to register?
Registration requirements vary by state. Here are the deadlines:
October 9: AZ, AK, FL, GA, HI, PA
October 13: DE
October 16: DC
October 22: AL, CA
October 29: CO
October 30: CT
Did you miss the deadline?
If you missed the registration deadline, your state may offer Same Day Voter Registration. The following states offer same day registration, up to (or on) election day:
CA
CO
CT
DC
HI
IA
ID
IL
ME
MN
MT
ND
NH
UT
VT
WI
WY
These states allow same-day registration only during the early voting period:
For detailed requirements for same-day voter registration for your state, please check the interactive map on the National Conference of State Legislature's page on Same Day Voter Registration.
Sign up now to receive updates and new articles about voter registration and security, delivered to your inbox: